Westerly gives surprisingly spacious accommodation for what looks like 'just a bungalow' from the front.  There is plenty of room to spread out using the upstairs and downstairs.  Westerly has Wi-Fi throughout.
Living Room
The front door opens directly onto the cosy living room where there are two sofas and an ottoman (storing some games), a Smart TV and a DVD player with plenty of DVDs for everyone.  In winter the warmth from the heater can be supplemented by the wood burner.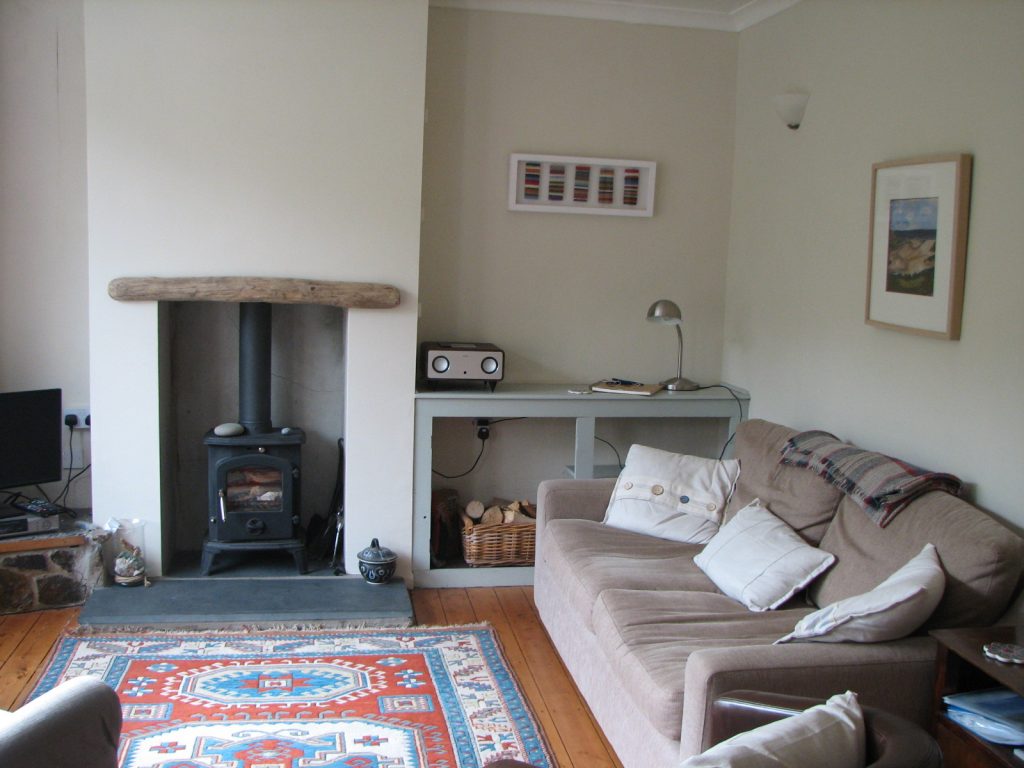 Kitchen/Dining Area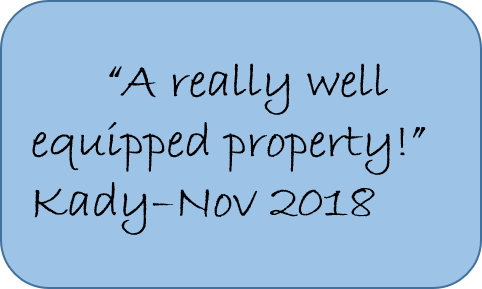 The very well-equipped kitchen (with under-floor heating) has a cooker with oven and hob, a dishwasher, microwave, fridge, kettle and toaster. There is plenty of crockery and cutlery, pots, pans and general cooking equipment. There are also tupperwares, picnic plates and glasses for your use. Under the sink you will find adequate washing-up and cleaning materials.  A sliding glass door allows access to the recently built boot room and wet room and lets plenty of light in to the room.  The washing machine, tumble dryer and a chest freezer can be found in the storage garage.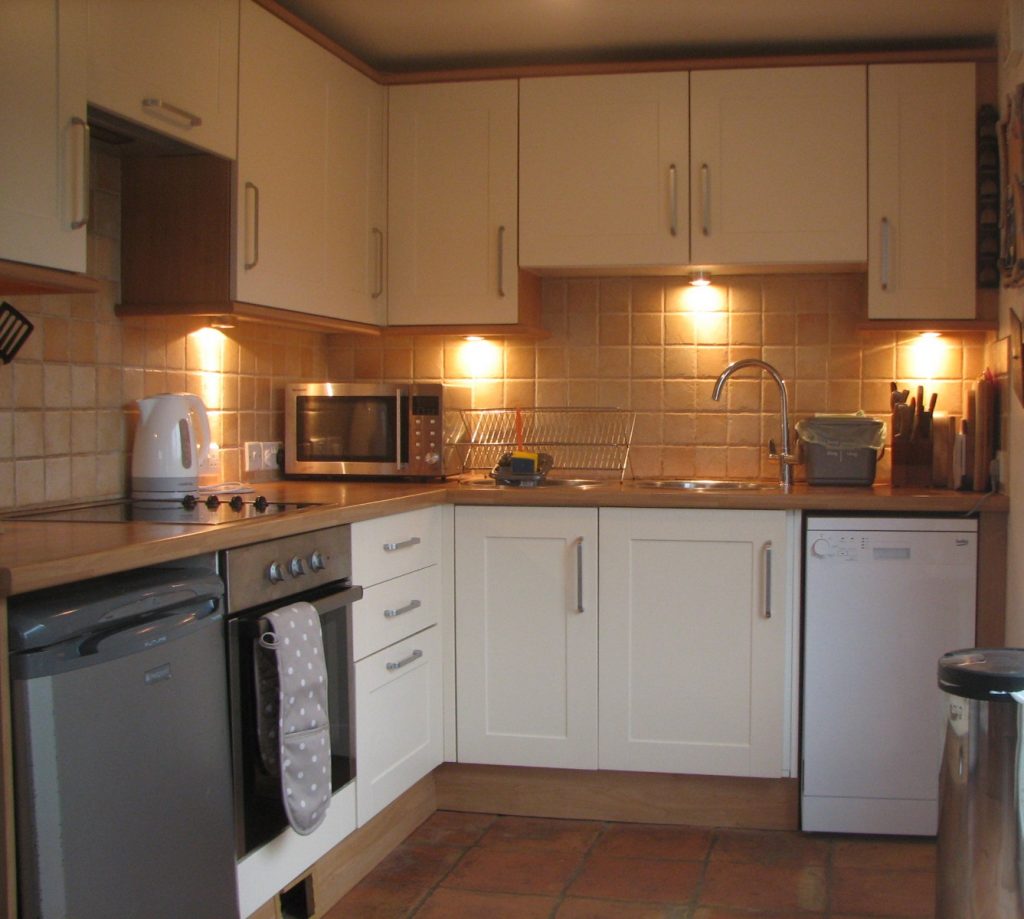 The underfloor heating continues into the adjoining dining area with a table and chairs.  The stable door leads directly on to the patio area.
The table has an extra leaf so it can be extended to seat eight.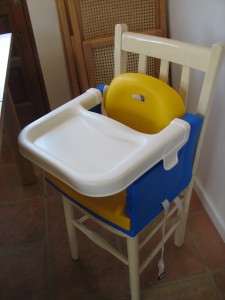 A child's seat which can be attached to a chair is stored under the stairs.
Boot room and Wet Room
The small extension at the back of the property consists of a boot room leading out from the kitchen through the sliding glass door with a wet room leading off it.
The boot room has a window seat and hooks for your coats and dog leads.  There are two white boxes where you may put your recycling before taking it to the bins and a back door which opens on to the patio.  
The wet room has an electric shower, a toilet and a basin.   This addition to the property allows you to come back from the beach or walks with wet or sandy people and dogs without taking any mess into the house.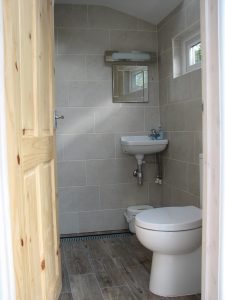 Double Bedroom with Cot

The front bedroom has a comfortable 4ft 6in wide double bed, two bedside chests of drawers, bedside lights and wardrobe space.  A travel cot is available on request. There is an Economy 7 storage heater.  NOTE: A double duvet and 4 pillows are provided, with covers.  Please bring all bedding for the cot.
Twin Bedroom
The second bedroom has twin beds which can be joined to make a 6ft wide superking double bed. There are bedside lights and tables, wardrobe space and a chest of drawers. There is an Economy 7 storage heater.  NOTE: Two single duvets or a double duvet and 2 pillows per bed are provided, with covers.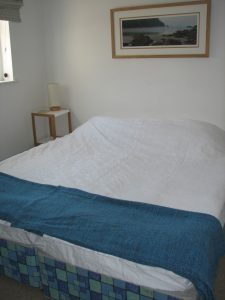 The beds can be pushed together to make a second king size double bed.
Bathroom
The bathroom has a toilet, wash basin and a full sized bath with electric shower over it. There is a heated towel rail and an airing cupboard (containing the boiler) with some storage.   There are plenty of hooks and shelves for your things. NOTE: A bath mat, bath towels, a non-slip shower mat and a toddler step are provided but please bring your own beach towels.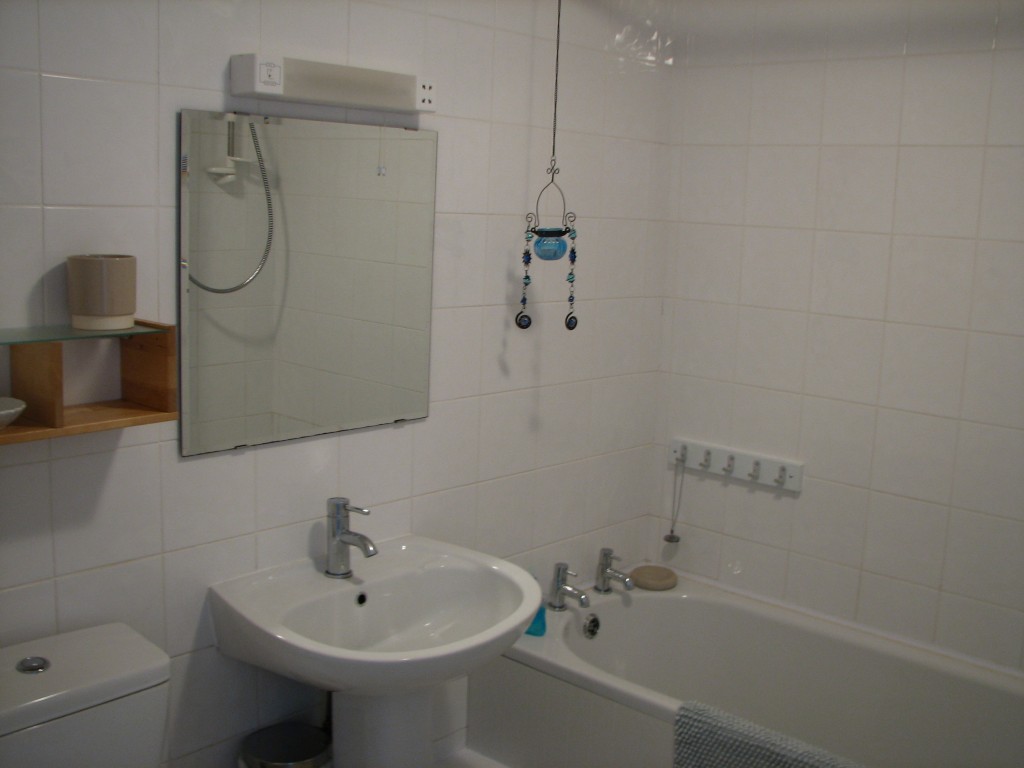 Landing

The large landing has black-out curtains on its apex window and room to open the small pull-out bed.   There are a couple of comfy chairs where you can relax with a coffee in the morning sun, over-looking the garden, stream and countryside and a drop-leaf table can be opened to make a work space.  A stair gate is fitted at the top of the stairs and a second one can be fitted at the bottom of the stairs.
The landing is a perfect spot for morning coffee or afternoon tea, for bird-watching, playing games or doing jigsaws, quietly working or maybe indulging the artist in you – an easel is provided!  On clear nights this area provides a fabulous vantage point for star-gazing.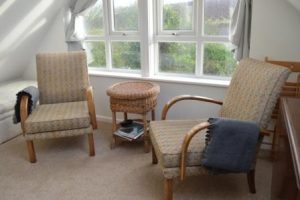 The upstairs is a real feature of the property as the whole of the loft has been opened up in to one spacious room.   Although the head room is restricted (142cm under the centl beam), it makes a great dormitory/playroom.  Large, velux windows give plenty of light during the day and in the evening the children will enjoy leaving the adults in peace downstairs.  There is a single bed with a mattress stored underneath which can be pulled out to make another bed.  There is also another single bed at the other end of the loft to sleep on and large cushions to lounge on.  For entertainment: a monitor with built in DVD player, 'table' (tummy?) football game, a PS2, a Wii and plenty of books and games to keep children (and adults) happy for hours.
Westerly now has a 'Book Swap Box' where, if you have finished your holiday read book, you may swap it in for a different book from the box.  Then, if you don't get to finish the new one you can take it home. There is also a selection of DVDs (parents, please supervise your child's choice) and some jigsaws with jigsaw boards.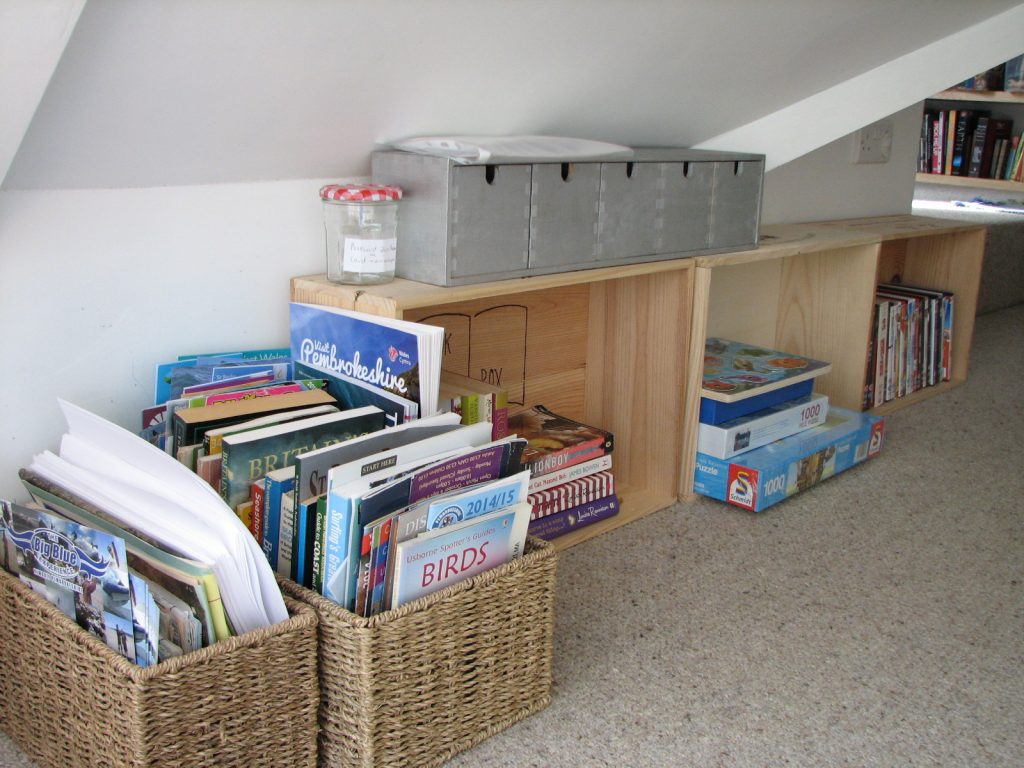 Patio Area
The stable and back doors open out of the kitchen and new boot room on to the safely fenced-off  patio area.  The patio furniture allows for relaxing sunny breakfasts or evening barbeques listening to the babbling stream at the bottom of the currently 'wild garden'.   A sun umbrella is available and a washing line can be attached across the patio if required.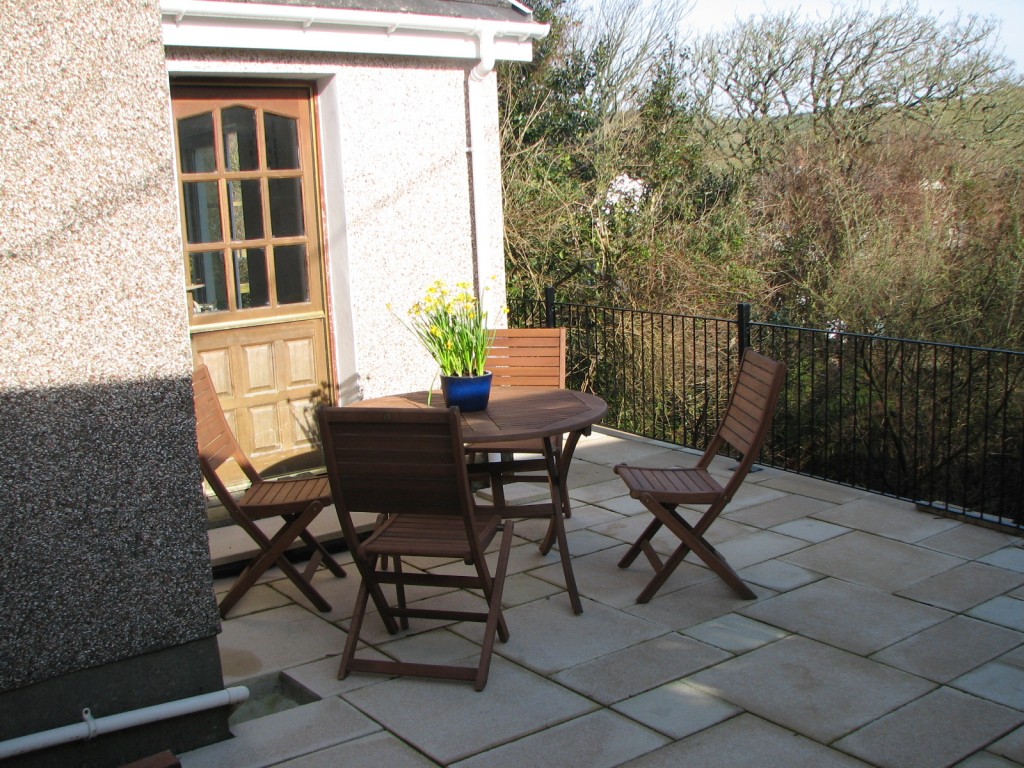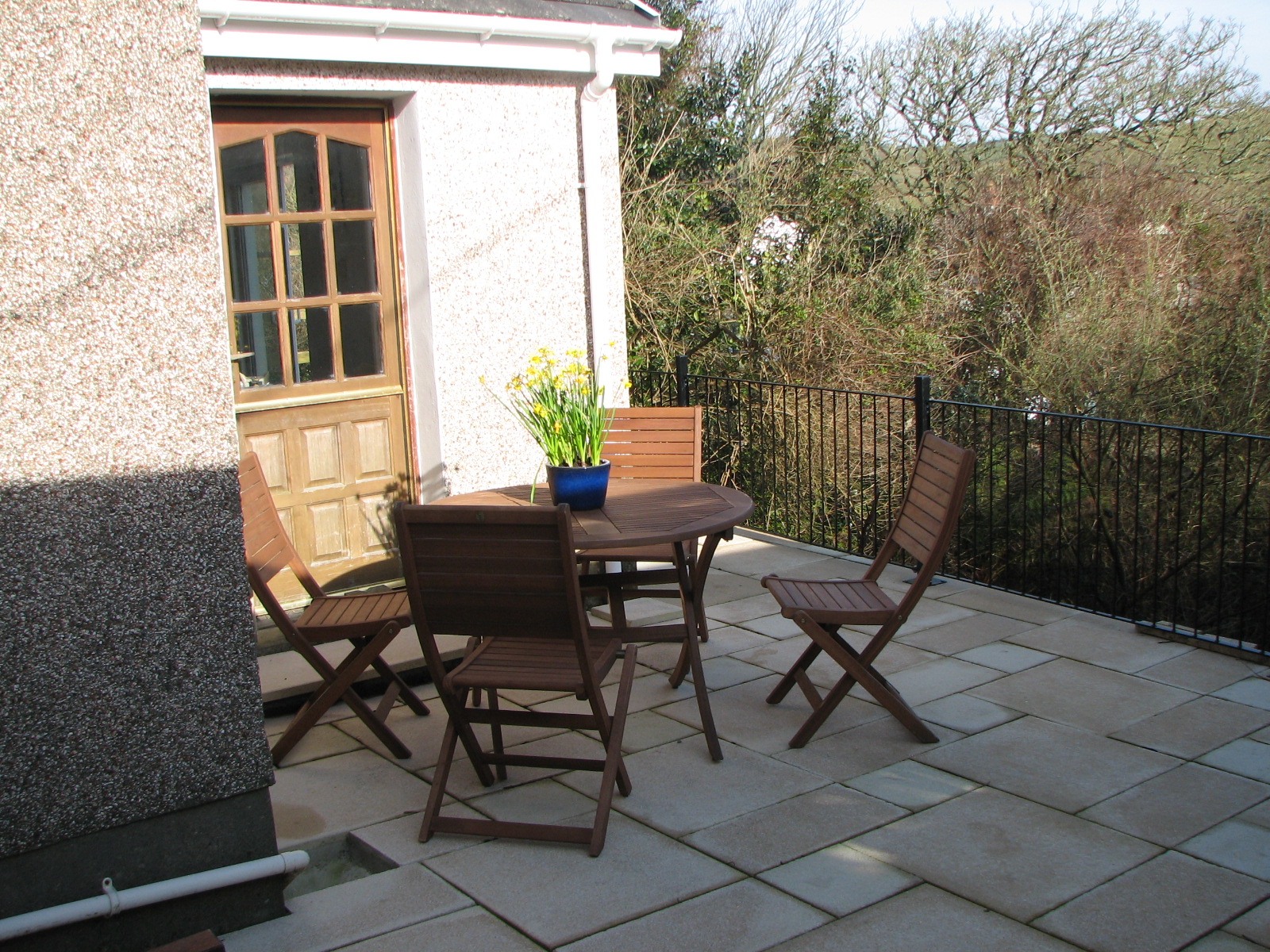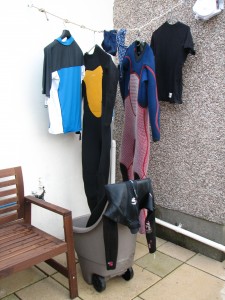 There is a tap to wash wetsuits and a rope rail to hang them to dry.  Non-dripping wetsuits can then be hung in the garage.
Garage
The garage is used as a store room for both the owners and guests and houses the washing machine, tumble dryer and chest freezer.  There are 11 wetsuits of varying sizes; a surf board and some body boards; wellies, beach shoes and a couple of pairs of riding boots; masks, snorkels and fins – all of which you are welcome to use.  Your surfboards, bikes and other outdoor equipment can also be locked away for safety.