This area of Wales is superb for walking.  The Pembrokeshire Coastal path runs unbroken for 186 miles and Westerly is just metres away from it. The flowers, particularly in May, are wonderful and there are sea birds, such as cormorants and gannets, unusual rock formations, ship wrecks, porpoises and puffins to see.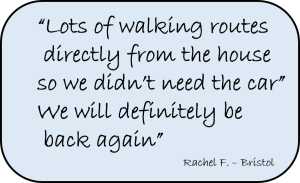 There is also excellent walking with wonderful  panoramic views in the nearby Preseli Hills or Mountains to the north.
The No.400 Puffin Shuttle bus runs around the coast line from St David's to Marloes with Nolton Haven half way round.  This allows for a one way walk with the return journey by bus and avoids the need for a circular route.
The walks either way from Westerly, towards Newgale or Druidston Haven, are beautiful. You can use a mileage calculator to work out how far you plan to go.
Towards Newgale                                                                         Towards Druidston Haven